This looked fun so I thought I would try this!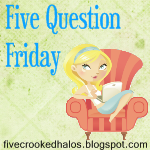 1. If you could be a fly on any wall, which would you choose?
I would want to be on my daughters wall when she's on the phone with her friends.
2. Do you budget your
Christmas shopping
or just get it done without
budgeting
?
I try to budget, I have good intentions, but it usually goes somewhat off course!!
3. What is the craziest fad diet you have ever done?
I have never done any fad diets. I have never dieted at all!
4. Is there a TV show that you have seen every episode/season of?
Yes, That 70's Show!
5. What one song always pulls at your heart?
"I Could Never Love You Enough" Shelly Wright (I think)
Ok thanks for reading!