Hi again, this post is about taking part in a writers workshop.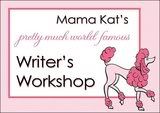 So here is my list of 5 chapters of my life and ending sentences for each of them!
1. The first 10 yrs
2.first crush
3.high school trauma
4.freedom
5.adulthood/motherhood
Ok now for the finishing sentences!!
1. They were nice and easy
2.Too bad he was a jerk-LOL
3.But I survived anyway!
4.Ah, lazy days after graduating!
5. The biggest blessing of having children!
That concludes this post!